Botox & Dysport Injectables
Botox and Dysport are neuromodulators that relax the muscles of the face that are causing unwanted lines. Wrinkles and lines develop on the face for several reasons besides collagen reduction or sun damage. Muscle contractions produced when frowning, squinting, or raising eyebrows cause the skin to fold and furrow, leading to facial wrinkles. Common treatment areas for Botox and Dysport include the frown line, crow's feet, and forehead area.
Botox is FDA-approved for the treatment of wrinkles around the eyes, as well as wrinkles on the forehead.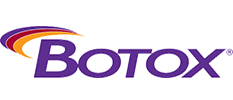 Botox® Cosmetic works beneath the surface of these areas and targets one of the underlying causes of why people develop frown lines and crow's feet as they age. By injecting Botox® into specific muscles, our board-certified medical professionals can temporarily reduce muscle activity in order to target one of the underlying causes of why people develop frown lines and crow's feet as they age. This will cause your frown lines between your brows, your crow's feet lines, and your forehead lines to appear less noticeable.
The procedure has minimal to no downtime and is quick and simple to perform. Bruising may occur after injections. We've found results are usually visible within 4-14 days and last for 3-4 months, and can be repeated regularly to maintain the results. Center for Aesthetics in Jackson sets the standard in these treatments and has been a leader in the area of injection volume. Botox® Cosmetic states you may begin to notice a visible smoothing of frown lines, crow's feet, and forehead lines within 24 to 48 hours, with full results in 14 days lasting up to 3 months for moderate to severe frown lines. Treatments with Botox are not permanent. If you stop the injections, the moderate to severe lines and crow's feet will gradually reappear.
Preventative Botox is a great option if you want to prevent the earliest fine lines from transforming into severe wrinkles. Botox is approved for patients who are 18 years and older, and most experts agree that patients in their mid to late 20s and early 30s are excellent candidates for the procedure in most cases.
Dysport is FDA-approved for treating moderate to severe frown lines between the brows and wrinkles around the mouth.
Approximately 600,000 unique patients in the U.S. are treated with Dysport each year, so you can be assured that you are not alone in looking for treatment. 
Dysport is an injection that uses a safe, purified derivation of botulinum toxin type A to relax the muscles. Dysport blocks nerve impulses from reaching the muscles that are under stress, thereby reducing the expression of those muscles and resulting in the smoothening of wrinkles and fine lines on the forehead, around the mouth, or anywhere else on the face. The medicine is administered at the injection site by a tiny injection pen.
The treatment is a quick 10-to-20-minute in-office procedure with minimal downtime, using a relatively small needle. You will not look or feel "fake" or "frozen"; Dysport simply relaxes your muscles. The procedure will not change your appearance or expression, so you will still be able to maintain effective facial expression, producing natural-looking results.
Dysport is fast-acting, though results vary; over half of users see improvement in moderate to severe frown lines between the brows within 3-7 days. Results will last for about three to four months after your treatment ends. The effects of Dysport will be temporary and will diminish over time if you do not receive a new treatment.
Is 50 or 60 Too Late to Start Botox or Dysport?
There is no specific age when you should start Botox or Dysport—it's all about the condition of your skin and the time it takes different people to get there. It's best to begin wrinkle treatment when you notice lines on your forehead, between your eyebrows, or around your eyes, even if your expression is neutral. 
These neuromodulators work even for more advanced signs of aging, which is why they are so fantastic! If you have especially deep wrinkles, we may recommend a combined treatment approach to create the very best results for you. We often pair Botox and Dysport with dermal fillers and skin treatments such as lasers, Tixel, and microneedling for more dramatic results. 
In addition, Dr. Catherine has created a powerful age-defying innovation with her proprietary CFA Evernal Series. The Evernal Series powerful arsenal rejuvenates unlike anything else available; it's a proprietary combination of treatments that refreshes, restores, and invigorates your face and neck. The result is age-reversal without any unnatural and invasive surgeries. If you want to look natural and fresh, then the Evernal Series is for you.
As with all cosmetic procedures, it is critical to seek out a professional who has expertise in administering Botox and Dysport and is knowledgeable of facial anatomy to obtain realistic-looking results. For over 20 years, we have been performing injections at the Center for Aesthetics Jackson, and, unlike many other med spas offering this service, our providers are experienced, board-certified Registered Nurses, Physician Assistants, and Medical Doctors.
Your Partner Through the Journey
At CFA Beauty Jackson, we promise to be your guide and personal cheering section through the years, counseling you on the best ways to prevent and address age-related concerns. We pride ourselves on personalized service, and we pledge not to "sell" you any treatments just because we own the technology. We love the lifelong relationships we've forged with so many of our patients – and want to build that trust with you too. Contact us for a consultation and let us help you get started on a self-care journey you'll love.